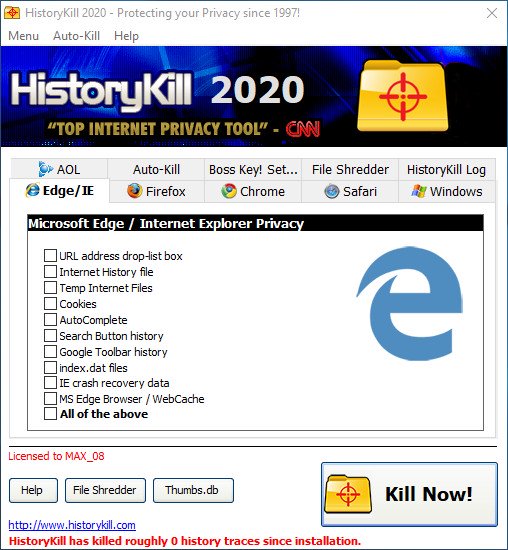 File size: 5.0 MB
After protecting personal computers for over 20 years, we are happy to announce the release of HistoryKill 2019. The original Internet privacy and security tool created during the first Internet boom of the late 90's. HistoryKill is celebrating its 20-year anniversary of being what CNN and PC WORLD calls a "Top Internet Privacy Tool."
Take a look at HistoryKill's® feature-rich application:
- TRUE PRIVACY -- Deleting your "Internet Temp Files, History & Cookies" using your web browsers built-in privacy functions will not protect you! You need to SECURELY delete your history!
- AUTO-KILL -- Automatically covers your surfing tracks immediately after you close your web browser -- there is nothing you have to "do!"
- COOKIE MANAGER -- You select which cookies to keep for added security!
- INSTANT MESSAGE BOSS-KEY -- Instantly hide your IM, chat-room, web browsers, casino & poker windows with the touch of a key. Don't get busted enjoying a simple escape from the drudgery of everyday life!
- GREAT NEW LOOK AND SO EASY TO USE -- Move with ease through our user interface and enjoy the privacy experience that only HistoryKill® can provide.
- SEARCH ENGINE / GOOGLE BAR KILLER -- No one will be able to tell what you've been looking for.
- COMPATIBLE WITH THE ALL MAJOR BROWSERS -- Internet Explorer, Mozilla Firefox, Google Chrome, Apple Safari, AOL & MSN.
- SPEED UP YOUR PC and Internet browser while freeing up valuable hard drive space with the click of a mouse!
OPERATING SYSTEM
- Windows Fragmented Files
- Windows Media Player History List
- Windows Recycle Bin
- Windows Temporary Folders
- Windows System Swap Files
- File & Application History Lists
- Windows Application Logs
- Thumbs.db
START MENU OPTIONS
- Recent Documents List (manually or automatically at each shutdown)
- Run History
- Find Files History
OTHER PROGRAMS
- Clears Google bar search history
- Windows Media Player URL/file history
- MS Office Recent file lists
BROWSERS: Edge, Internet Explorer, Mozilla Firefox, Google Chrome, Apple Safari, AOL & MSN
- URL History List from Address Bar
- URL History Files
- Temporary Internet Files
- AutoComplete Form Fields & Passwords
- Removes 'index.dat' files
- Removes Cookies (Cookie Manager for IE)
- Removes session history files
- Removes HTML5 local storage files
- Removes JumpList cache
- Removes top site history
- Multi-profile history data files in Chrome
- Removes history folders in "Protected Mode" (low integrity folders in IE)
What's new

http://www.trustsoft.com/pp_hk_1.php

HOMEPAGE

http://www.trustsoft.com



https://www.heroupload.com/372f01c6a44a9439/HistoryKill2020.rar